Chiropractor St. Petersburg FL
Welcome to Thrive! Chiropractic & Wellness, located in beautiful St. Petersburg, Florida.  At Thrive! Chiropractic & Wellness we understand you can't be at your best for yourself, your family, or your community if you're in pain or are concerned about your health.  Our St. Petersburg chiropractor Kelley Mulhern listens to your concerns, perform appropriate testing, and make prompt referrals when they're needed. We're also excited to announce that we now accept Medicare in our office.
Thrive! Chiropractic & Wellness
Thrive! Chiropractic & Wellness is located in Scott Medical Center, one block West of St. Pete General Hospital.  We're approximately one mile from the Tyrone Mall, and 2 miles from the Bay Pines area of St. Petersburg, FL.  We have plenty of free parking!
Thrive! Chiropractic & Wellness isn't right for everyone in St. Petersburg, FL, and we don't accept everyone as a patient.  If you're looking for a quick "crack" or a "pop" once in a blue moon, or If you don't understand the need for a comprehensive spinal exam before letting someone adjust your spine, this is not the office for you.  We work with people who are committed to making a change in their health.  If the chiropractic and wellness services we offer aren't what you need, we won't waste your time or your money.
We take your health very seriously and have a thorough intake process.  First, you'll sit with the doctor to review your current concerns, past health history, illness, injuries, medications, family history, and more.  Next, a comprehensive spinal examination is performed, including orthopedic tests, neurological tests, range of motion, and x-rays if clinically indicated.  This completes your first visit and can take up to one hour.  You'll then be scheduled for a second appointment with the doctor. This is called a "Report of Findings" and is where the doctor will explain the examination results, the x-ray findings, and the diagnoses.  You'll have plenty of time to ask questions.  Based on your goals and her findings, the doctor will make treatment or referral recommendations, and you can decide how you'd like to proceed.  Of course, a 15-minute consultation with our chiropractor in St. Pete's FL is always complimentary.
What Makes Us Unique
At Thrive! Chiropractic & Wellness, we offer some of the most advanced assessment, diagnostic, and treatment options available in St. Petersburg, FL.  In addition to chiropractic, we offer Deep Tissue Laser therapy to reduce pain, reduce inflammation, and promote cellular healing.  We have one of two vertical traction devices (developed by ProtecSpine) in the state – and this unique device puts the patient in control of the process.  If you've been injured in an auto accident, we perform objective functional testing and specialized radiographic assessments to properly diagnose and document your injuries.  Only if your auto injuries are properly diagnosed and documented can they be effectively treated and compensated.
We also have a team of medical professionals who provide Regenerative Medicine services in St. Petersburg, FL.  This includes the use of Platelet Rich Plasma (PRP) and Regenerative Cellular Therapy (RCT) using natural substances such as stem cells, exosomes, etc. to reduce pain and improve the function of degenerated or injured areas.
Common Conditions and Misconceptions
At Thrive! Chiropractic & Wellness, we help St. Petersburg, FL residents with a variety of issues including: Auto injuries, headaches, back pain, neck pain, sciatica, scoliosis, arthritis, strains/sprains, plantar fasciitis, diabetic neuropathy, forward head carriage, pelvic tilt, poor posture, shoulder injuries, knee injuries, and more!
Over the past few years, we've discovered a few common misconceptions about St. Petersburg Chiropractors.
OFFICE HOURS
Monday
8:30am - 12:00pm
1:30pm - 6:00pm
---
Tuesday
8:30am - 12:00pm
1:30pm - 6:00pm
---
Wednesday
8:30am - 12:00pm
1:30pm - 6:00pm
---
Thursday
8:30am - 12:00pm
1:30pm - 6:00pm
---
Friday
Closed
---
Saturday
Closed
Thrive! Chiropractic & Wellness
6705 38th Avenue N Suite B
St. Petersburg, FL 33710
(727) 381-3456
HOW TO FIND A CHIROPRACTOR IN St. Petersburg
This guide will help you find the best chiropractic clinic in St. Petersburg for you. When most people in St. Petersburg decide they need a chiropractor, they end up doing a search and just picking someone at the top.
Being at the top of Google for the chiropractic search does not necessarily mean they are the best chiropractor for you. Follow the steps below to make sure you are picking the right chiropractor for you.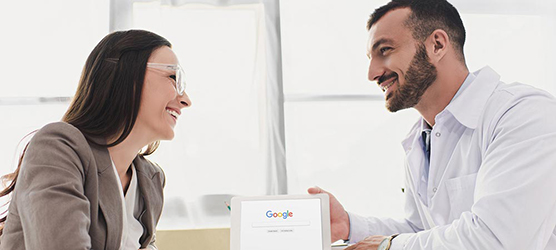 Time Needed: 5 minutes
Total Cost: USD 0.00
4 EASY STEPS TO FINDING A CHIROPRACTOR IN St. Petersburg
Step 1: Open up a Google search
You will want to type one of the following in the search bar:
Chiropractor St. Petersburg
Chiropractor 33710
Chiropractor near me
Best chiropractor in St. Petersburg

Step 2: Review Their Website
The best chiropractors in St. Petersburg put as much care into their website as they do into the rest of their office. By reviewing their website you will get a good feel for the doctor and if they are right for you.

Step 3: Check Out Their Reviews
Check out the Google Business Page of a chiropractic clinic you are thinking about visiting. It is easy for someone to say they are great, it's a different story to get other people to say great things about you.

Step 4: Give The Office A Call
Now that you have a basic understanding of what the office is about. Give them a call to make sure they fit the message that their website and GMB have been sending. You will know in a few minutes whether the office is the right one for you.